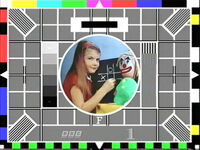 Test Card F is a test card released in 1967 by BBC in the UK. It features a young girl (Carole Hersee) sitting by a chalkboard playing Noughts and Crosses (In the USA Noughts and Crosses is called Tic-Tac-Toe) with a doll named Bubbles the Clown (which Carole still has). The Test Card is still very popular and has had many spoofs and parodies. It was last shown 26th March 2013 as part of the BBC HD Shutdown.
Technical Stuff
Edit
The card has every color and test that the TV station needs to transmit properly. Carole is used to tell if skin tones look right. Bubbles the Clown was originally blue and white, but they are already in the picture, and green was needed. So a green wrap was made for Bubbles's body. However, the shade of green was too subtle for the producers made it more pronounced in the final picture.
Other Versions
Edit
Test Card F has had many clones. Test Card J is an edited version of Test Card F that shows more of the picture and there is a widescreen version of Test Card J (called Test Card W) that was broadcast. Also an edited version of Test Card F was broadcast for "BBC Comic Relief" week with a joker in the place of Carole. Also, the Teletubbies got a test card (that sadly, was never broadcast).
Un-broadcast material
Edit